Aerros' Fleet Management gives the user the ability to input all fleet-related data that most airlines are familiar with, along with some unique capabilities.

Users can enter multiple fleets, operators, models, as well as livery paint schemes, and interior configurations. All specific aircraft data is also entered here, including serial number, manufacture, delivery, service, and exit dates. Aircraft hours and cycles can be manually input, exported and imported with Excel, or updated by customer's external system feed.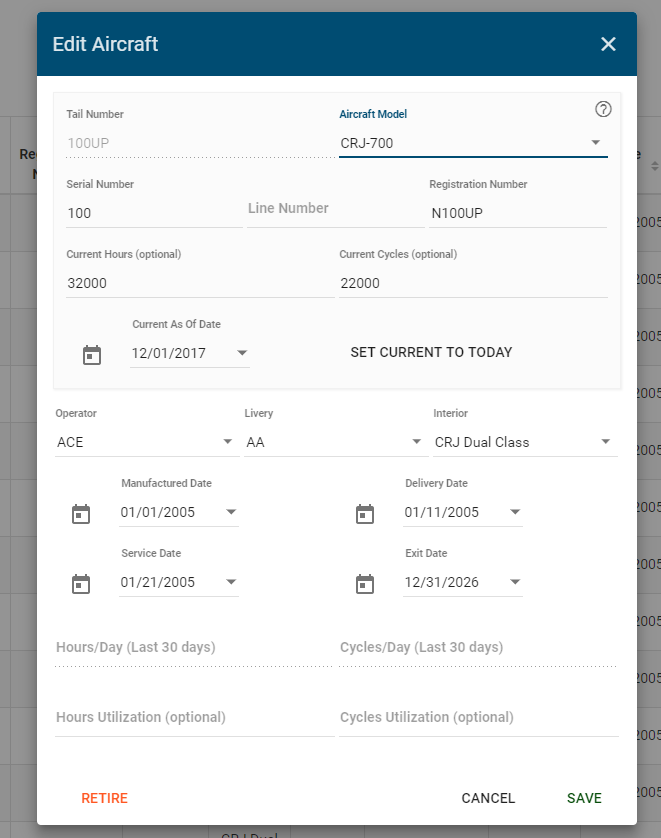 A big key to forecasting an accurate schedule is to have correct and realistic daily hour and cycle utilization rates. Aerros gives the user the option of calculating utilization based on actuals, or by manually setting the rates.
Airlines typically have fluctuating utilization rates throughout the year, so Aerros takes that into account by also giving the user the option of setting rates by specific date ranges for those periods when the rates change from normal operation. After that period is done, the rates go back to the previous settings.